don't really be jealous, please... but this is SO good. i think i've gotten caribou coffee once... i used to eat the bars they carried at grocery stores all the time, but never really went to the store... UNTIL TODAY, that is. i have one right across the street from where i work. SOOO, instead of mister husband dropping me off at work, i had him drop me off across the street.
i got a large vanilla blender... and can i tell you... MMMmmmMmMMMmmm, seriously. probably the best frappe i have EVER had. price is about the same as starbucks, i'd say, too! my cup looked sort of like the only below with all the sayings, but the drink looked like the one to the right... NOM NOM NOM. it is now ALMOST gone & i'm sad.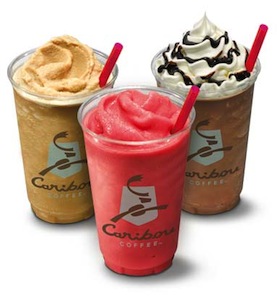 i LOVE the little sayings on this glass... seriously, so cute (& TRUE)! here's a few:
***life is short. stay awake for it.***
***spend time with your kids, tomorrow they're a day older.***
***give your change to charity.***
***spin the globe then pack your bags.***
***be the FIRST to apologize.***
***don't wait for new year's to make a resolution.***
***donate blood. you have plenty!***
***be the ruler of your own life.***
***be the first to enter & the last to leave the dance floor.***
***indulge in chocolate therapy.***
***plant lots of trees.***
***learn to say thank you in different languages.***
***dare to adventure.***
ANNNNND... just a little BONUS for reading on my blog, look at this COUPON i found!
we all know i'm a sucker for coupons!
:)
cute little sayings on cups,
your j